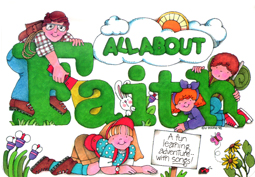 Included Songs

Listen!
Floods of Light

Samples Coming Soon

Following the Light

How Does Faith Work?

Growing, Growing

Ch-ch-ch-choose

The Bringer of Joy

Angels Dance

All That We Might Have Joy

The Gardener and the Tree

And Many More!
The AllAbout Series


Learn about Faith in Jesus Christ


The Joy and Power of Repentance

Newness of Life Through Baptism


The Gift of the Holy Ghost


The Sabbath, a Special Kind of Day


Temples, the Place of Promises and Power

6 Episodes, Approx. running time 120 mins.



In 35 original songs, the AllAbout Family teaches the first principles of the Gospel: Faith, Repentance, Baptism, the Holy Ghost, and All About Sunday and Temples!

There has never before been a collection of children's songs that illuminates these principles in such a fun, humorous, joyous and deeply touching way. Children and grownups will gain a whole new appreciation for these essential principles.

This collection offers real understanding, real nourishing teachings, and real joy! The songs teach children how to use these powerful principles every day.


You don't have to use PayPal when you click this button. They are our credit card clearance company. Choose "Don't have a PayPal account?" to use a credit card.