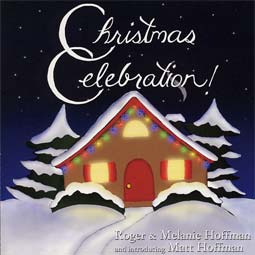 | | | |
| --- | --- | --- |
| Song Samples in mp3 format | Listen! | Buy MP3 |
| We Wish You a Merry Christmas | | $0.99 |
| Angels We Have Heard On High | | $0.99 |
| Joy to the World | | $0.99 |
| I Wonder As I Wander | | $0.99 |
| Carol of the Bells | | $0.99 |
| Good King Wenceslas | | $0.99 |
| O Holy Night | | $0.99 |
| The Holly and the Ivy | | $0.99 |
| Away In a Manger / Once in Royal David's City | | $0.99 |
| Christmas Celebration | | $0.99 |
| Deck the Halls Watch the video | | $0.99 |
| We Three Kings | | $0.99 |
| Stars Were Gleaming | | $0.99 |
| O Sing Ye People | | $0.99 |
| Silent Night | | $0.99 |
Christmas Special

Buy 3 or more of any combination of Christmas Celebration, He Is Coming or Sunday Day of Joy! CDs and get them for $5 each!
Go to Special Order Page

Regularly $10.00
(Change Quantity to 3 or more in the cart.)
Available for immediate shipping so the music can be
enjoyed through the whole season.


This music is part of my Christmas experience every
year. I love it as much now as the first time
I heard it. -- Gordon Lonsdale
Director of Photography, NCIS New Orleans
"I've never heard a Christmas album I loved as much
at first hearing. I played it all through the season and
even after. Both my sons, Steve and John, love it
as much as I do."
--- Janice Kapp Perry
The Story Behind This Album
When we were kids we couldn't wait until it was time to listen to Christmas music. Bringing out our Christmas LPs was like welcoming old friends back from a year-long journey. In our own family we have collected a beloved stack of Christmas CDs. When our sons were little, they pranced on the furniture and danced through the house to their favorite contemporary instrumentals.
With inspiration from those wonderful albums we all grew up with, we created Hoffman House's Christmas Celebration, 15 songs to celebrate the most joyous of the seasons, a mixture of instrumental, vocal and choral, and plenty of music to dance to!
One of the things we enjoyed the most was collaborating with our son Matt, who added his delightful instrumental arrangements.
We hope this album will find a place in your treasured Christmas collection and bring you joy for years to come.